Workplace Transformation Based upon Nobel Prize winning systems science, not spc
"David doesn't speak of workplace and leadership transformation. He embodies that transformation. Each of us left his presentation changed in some way. His New Agreements for Leaders Model stretched my thinking beyond everything I've heard or read about leadership or organizational change." – A CEO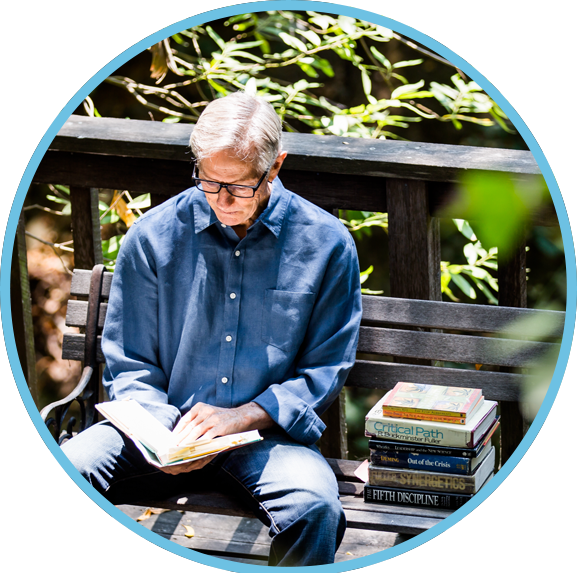 The New Agreements for Leaders and 7 Tools comprise a  systems-based transformational model the rapidly improves front line systems in healthcare where care is actually provided. This transformation significantly improves quality of care, patient satisfaction, safety, and care provider satisfaction while dramatically lowering costs. This is the bottom/up, front line driven, systems-based transformation healthcare has been crying out for.
"For many years I felt like the information that came to me about workplace and personal transformation was privileged in some way. Possibly age or becoming more aware this information is meant to be a catalyst for meaningful change in the workplace and the world changed all that. Though rather late in my life and career, we are doing our best to share this wisdom with all who are ready for genuine transformation in the workplace, starting with healthcare. That is our mission and, I believe, the destiny of The New Agreements & 7 Tools leadership and workplace transformation model.
– David Dibble

KIND WORDS FROM HAPPY CLIENTS
"They will show you how to create the dream work life you are meant to live and how to teach others to do the same."
"The New Agreements Tools create a framework for a holistic approach to the operations of an organization. It embraces the development of the people while setting them up to be successful through optimization of the systems in which they must work.
"David's New Agreements for Leaders and 7 Tools are a one-of-a-kind consultation. Leaders and grass roots staff work together to improve the systems of care. Through shared successes, it earns buy-in from everyone. No more blaming and complaining. If your organization is in need of developing leadership and management, cultural transformation and sustainable systems-improvement, the New Agreements and 7 Tools are the model for you."
"The New Agreements and 7 Tools methodology, in contrast to the top-down, project-based approaches that conventional quality improvement programs embrace in healthcare, uses a frontline-driven approach that provides staff with simple and robust systems tools that are accessible and empowering. For the first time, frontline staff are directly engaged in the entire improvement process. David's New Agreements and 7 Tools put to rest the misconceived notion that quality and safety in healthcare come at a financial burden. When the frontline care providers identify and improve the critical systems and their sub-components, the resulting cost reductions invariably favor any initial investment. In short everybody wins: the work environment improves, staff morale improves, quality and safety improve with significant cost reductions and, most importantly, patient satisfaction soars as they receive the care that they deserve."
"David has an intuitive sense of business in the way he works with his clients to, through his Four New Agreements and Seven Tools, accomplish extraordinary results in their companies. David has worked with the best, and still they learn from him on what they need to do to develop their people and grow their businesses. His model for change delivers in multiple ways, above all enriching the leadership team with greater understanding about how to lead and manage change. I recommend David as a mentor, colleague and advisor to any and all who desire not only to improve but to take a leap toward leadership and management mastery."
"I met David at the Deming Seminar in 1992 and was immediately impressed by his knowledge and abilities. I subsequently have come to know David as a mentor, coach, and most importantly, as a good friend. With his New Agreements and Tools, he takes leadership and management to a new level, the level of true transformation of not only systems and processes, but of one's self. I am honored to know David and it is a true privilege to work with someone who is a real pioneer in leadership."
"As president of healthcare system comprised mainly of smaller, rural hospitals, we brought David in to work with us in two critical areas: A systems-based model for acquiring hospitals and training our managers in the 7 Tools. When I moved on to be a founder and CEO of New Light Healthcare, a company that manages and assists community hospitals through challenging times, we still rely on David's Four New Agreements and his New Agreements Tools as foundational in assisting our client hospitals. As David is fond of saying and as we have found to be true, 'Sustainable performance improvement in companies requires two things: Improved Systems and Growth in Leaders and Managers—You must have both'."
"David and I worked together for almost two years. His New Agreements approach and Tools helped change a hospital organization from silo-thinking into an effective, systems-oriented unit. He did this through his seven tools by teaching, prodding and coaching people to go to places they never thought they could achieve. He helped look at healthcare from a perspective that few other people in the business have done. Our organization was a much better hospital and people were better as a result of implementing the Agreements and Tools."
"The Agreements and Tools are simple, straightforward, and address problems that have been plaguing us in the OR for years. It's made a huge difference for frontline staff and me in caring for patients and each other. The Four New Agreements is a bold new approach whose time has come. With compassion and good systems we are delivered to a place of genuine care. We are the ones we have been waiting for."

Approximately 94% of the Outcomes Experienced in Healthcare, both Good and Bad, is a Function of the Systems/Processes in Which Care Providers Work, NOT the Efforts of Those Care Providers.
Think how this fact changes so much we've been taught about leadership, management and transformation in healthcare.